Keep tabs on your online reviews
A thorough breakdown of the significant review portfolio indicators.
Keep tabs on every component of your review management strategy, such as the effectiveness of your review funnel, the KPIs you use to measure it across different companies or locations, and the email and SMS campaigns you use to solicit reviews.
Utilize your performance dashboard for analysis.
Statistics on the amount and quality of reputations
Keep an eye on your review portfolio generally. Keep track of the overall quantity and quality of your review listings on all of the sites you are building and managing.
Watch the total number of reviews, the average ratings, and the star rating, in other words.
Set a specific deadline for the review distribution.
Review the review activities for particular time periods with a fast scan. to assess the effects of campaigns and corporate-wide strategies for acquiring reviews on your overall efforts to create ratings and reviews.
For instance, you may establish a time limit for the site's most recent reviews, freshest reviews, and average ratings.
Monitoring Campaign Expansion
You may track the performance of your email drip campaigns by keeping an eye on the graphical report of your engagement, open rate, site visits, and button rate to the third-party review site.
View the campaign's outreach and reaction, then use the destination to find your way.
Analyse the date and success rate of your email and SMS review request campaigns.
It covers the following: Recipient, Sent Campaigns, Visits, Opens, Clicks, and Unsubscribes.
Leaderboard for Employee Performance
A Performance Leaderboard is a fantastic tool for praising and recognising performance results.
Businesses will be able to track whose workers' QR codes are most frequently scanned and how frequently users of the QR codes visit the review site.
This tool aids businesses in identifying which employees are successful at obtaining client feedback and which ones can benefit from more training.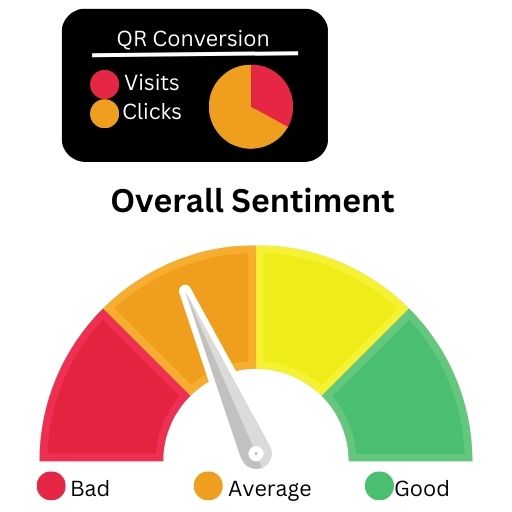 Overall Sentiment and QR Conversion
Make informed judgements about the service or goods your business offers based on the opinions of both pleased and disgruntled consumers.
Investigate the trends and commercial lessons that may be drawn from both positive and negative customer evaluations. It aids in more successful corporate planning strategy.